Elena wants the purple bike, and she wants it right now!  To wait, to delay gratification, is not in the nature of young children.  It is a behavior that has to be carefully taught.  Over and over and over. 
·      Wait while I fix your bottle.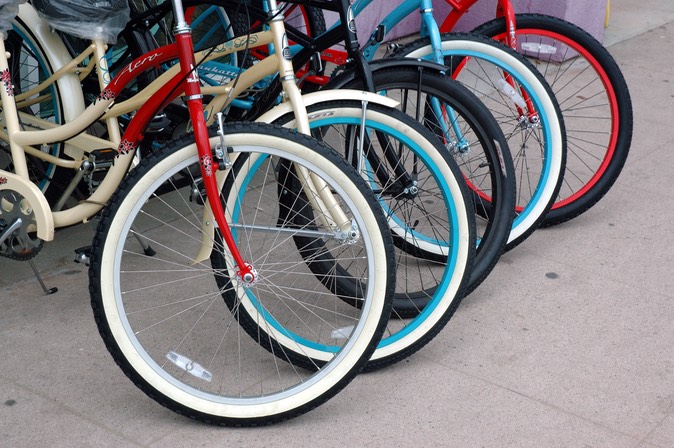 ·      Wait until it's your turn.
·      Wait until I'm off the phone.
·      Wait until after dinner is over.
·      Wait until the adults are through talking.
·      Wait until school is out.
·      Wait until you turn 16.
·      Wait until you have earned enough money.
·      Wait, wait, wait.
The ability to delay gratification gracefully is a crucial ingredient of success in adult life.  It is one of the most important lessons children need to learn.  It is a powerful factor in adult success.
Some of the "wait" lessons are built into the schools, but the foundation for this behavior is laid at home during the preschool years and continues throughout the growing years.  Is it important to teach?  Yes!  Easy to teach?  Not necessarily.  Easy to turn around for parents who have been overindulging?  That takes courage and persistence.
Parents in recovery
Witness Dad and Mom, a couple who are struggling to cut back on overindulging.  They have given so much on demand that their girls have only the first part of "wait" down pat.  "Wait for me!"  Yes.  "Wait for what I want?"  No way!  "Wait for someone else?"  Not without nagging them to hurry.
A visit to the bike shop
Seven-year-old Bonita's bike needs repair and four-year-old Elena has outgrown hers.  On the way to the bike shop, Bonita's demands to bring her bike home today mix with Syndey's chant, "I'm getting a new bike today, I'm getting a new bike today."  Dad explains for the seventh time that Bonita's bike may not be ready today, and that Elena's bike will be turned in against a new bike for her birthday.  The girls hear only their own voices.
Inside the bike shop Bonita jumps up and down by the repair shop window, and Elena gravitates to a purple bike.  You know the scenario.  Elena tries the purple beauty, just her size.  Dad says birthday.  Elena begs.  Mom says birthday.  Elena smiles and wheedles.  Dad says birthday.  Elena tantrums.  Mom wavers, "Couldn't we get it today?"  Dad reminds Mom that they have agreed to put some delayed gratification into the girls' lives.  Mom is still hooked.  "Can't we negotiate with Elena?  She wants it so much!"  Mom, like many parents hooked by a child's distress, suffers temporary brain dysfunction as her good intent crowds out her rational thinking.
Dad proposes a way for Elena to earn the bike.  Next week, on vacation, they can rent a standard bike for Dad without a child seat on the back.  They rent a small bike for Elena.  If she pedals her own bike, which she is big enough to do, she gets the passionate purple bike on her birthday.
Elena sulks.  Bonita's bike is not ready.  The drive home is petulance plus.  Four times that evening Elena demands to know why she can't have "her" bike now.  Four times that evening Dad repeats the plan.
How will this story end? 
Will Mom and Dad get to the place where they can simply say, "This is not your decision," and make it stick?  For now, will Dad prevail?  Will Elena have the double lesson of waiting and of putting forth effort other than begging?  Will Mom's desire to avoid dealing with discomfort prevail?  Will she slip out and buy the bike now?  What will they do if Elena doesn't pedal her bike on vacation?  Will these intelligent, well-meaning parents find a way to help their girls play catch-up on the lessons of delayed gratification?  How would this play out if the girls were teenagers?  What would you do?
Adult research study participants who were overindulged as children reported that difficulty in delaying gratification has many adverse effects on their adult lives: Maxed credit cards, obesity, difficulty in keeping a job, etc. Read more about it on the web site: www.overindulgence.org or in the How Much Is Too Much? book.
There is more help about avoiding overindulgence in How Much is Too Much? Raising Likeable, Responsible, Respectful Children – From Toddlers To Teens – In An Age of Overindulgence (2014, DaCapo Press Lifelong Books).
All photos from MorgueFile free photo.