What does it mean when a person goes into a public space during the COVID-19 pandemic and doesn't wear a mask or observe social distancing guidelines? What message does this send? Why don't people follow social distancing guidelines? And what does this acknowledge about our culture?
Anthony Fauci, a leading expert on infectious diseases recommends that we wear face masks and stay home during the COVID-19 pandemic: "If everybody does that, we're each protecting each other."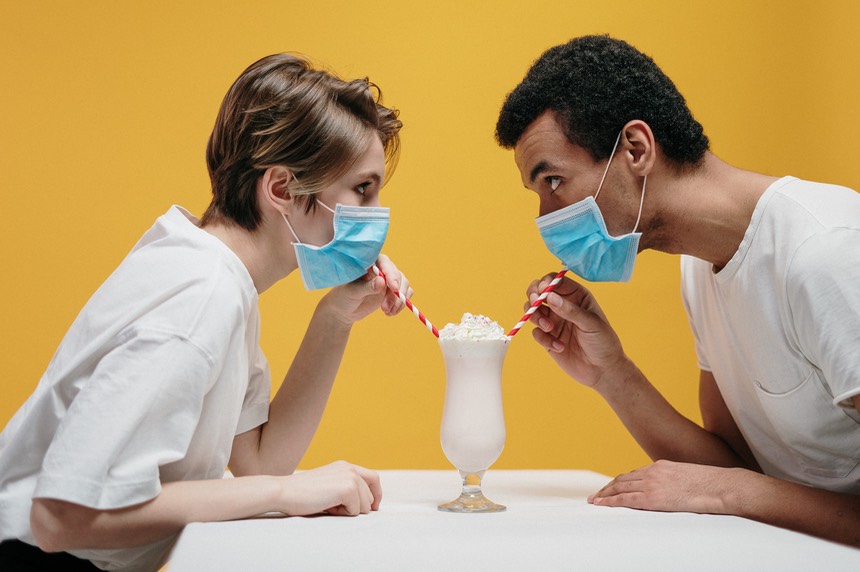 The Evidence Is In
A study published on June 1, 2020, in The Lancet found that social distancing (six feet or more apart from others) and wearing face masks in public works. They found that these practices were not 100 percent effective, but they do lower the risk of spreading the virus. So Dr. Fauci was correct: If we do these things we protect others and ourselves. The title of a recent article written by Maria Godoy, NPR Science Desk Senior Editor, makes it clear: "Yes, Wearing Masks Helps. Here's Why " highlights the most recent scientific evidence supporting face mask usage. And, in a study published June 30, 2020, in the journal Physics of Fluids compared types of masks and their effectiveness.
...uncovered emulated coughs were able to travel noticeably farther than the currently recommended 6-foot distancing guideline. Without a mask, droplets traveled more than 8 feet; with a bandana, they traveled 3 feet, 7 inches; with a folded cotton handkerchief, they traveled 1 foot, 3 inches; with the stitched quilted cotton mask, they traveled 2.5 inches; and with the cone-style mask, droplets traveled about 8 inches. 
Americans' Face Mask Habits
A Gallup/Knight Foundation poll conducted April 14-20, 2020, with a random sample of 1,693 adults, ages 18 and older, living in all 50 states and the District of Columbia found that a majority of people do not wear face masks:
Mask Usage in Public, by Demographic Subgroups
In the past seven days sometimes or never wore a mask/face covering outside the home:
63 percent - U.S. adults
72 percent - Men
56 percent - Women
70 percent - High school or less
69 percent - Some college
60 percent - College graduate
55 percent - Postgraduate
After being penned up for approximately two months or more, masses of Americans ignored the CDC Coronavirus Disease 2019 guidelines for going out, which include wearing a cloth face covering (which protects others) and social distancing. For example, Wisconsinites packed bars after the state Supreme Court struck down Governor Evers' stay-at-home order. Few wore face masks and followed social distancing guidelines.
Me vs. We
As a psychologist, I have spent most of my career researching childhood overindulgence and writing about how it is exhibited in adulthood. Our culture is steeped in overindulgence and it has become the new normal. (See Are Kids Today More Overindulged?) It is only natural for me to view the COVID-19 pandemic and the country's response to it through this lens.
In response to stay-at-home orders, protest signs like "Our Rights Are Essential," "Live Free or Die," and "Give Me Liberty or Give Me Death," have been popping up at anti-lockdown protests nationwide. Another round of protests against Michigan's stay-at-home order took place after President Trump tweeted in support of demonstrations in the state earlier this month.
Increasingly a Me vs. We mentality has seeped into the fabric of our country. Is this Me vs. We attitude fueled by childhood overindulgence? I think so. Is overindulgence linked to not wearing face masks and not following social distancing guidelines? Even though there has not been a specific study to test it, logic says yes.
Things We Know About Overindulgence
Adults who were overindulged as children:
were less likely to work for the betterment of society

1

were less likely to help others unless there was something in return

1

were more likely to do something only if it improved what they looked like (attractive, stylish)

1

lack self-control (inability to delay gratification)

2

have elevated materialistic values

2

were more unappreciative and ungrateful

2

feel they are entitled to more of everything and deserve more than others

3

have difficulty finding meaning in times of hardship

3
I believe that individuals who go out in public not wearing face masks and who don't follow social distancing guidelines are a product of a culture of overindulgence. Is this the only reason? Certainly not. Age, gender, education, trust in science, political leanings, and the number of deaths in one's proximity also contribute to this behavior.
I believe everyone should follow Matthew McConaughey's advice: Make and wear a mask.
Practice aloha: Do all things with love, grace, and gratitude.
© 2020 David J. Bredehoft.
References
(1) Bredehoft, D. J., & Ralston, E. S. (2008). Factors connecting childhood overindulgence and adult life aspirations: Executive Summary - Study 6.
(2) Slinger, M., & Bredehoft, D. J. (2010). Relationships between childhood overindulgence and adult attitudes and behavior. Poster presented at the 2010 National Council on Family Relations Annual Conference, November 5, 2010, Minneapolis Hilton and Towers, Minneapolis, MN.
(3) Bredehoft, D. J. (2010). The disconnect between childhood overindulgence and adult spirituality. Poster presented at the 2010 National Council on Family Relations Annual Conference, November 5, 2010, Minneapolis Hilton and Towers, Minneapolis, MN
Chu, D. K., et al., (2020, June 1). Physical distancing, face masks, and eye protection to prevent person-to-person transmission of SARS-CoV-2 and COVID-19: A systematic review and meta-analysis. The Lancet, DOI:https://doi.org/10.1016/S0140-6736(20)31142-9
Ritter, Z., & Brenan, M. (2020, May 13). New April guidelines boost perceived efficacy of face masks. Gallup/Knight Foundation survey.